Bring the Experience to Them
Your consumers are as important to your brand as the product itself. To keep them intrigued and coming back for more you need to leave them reeling — you need to give them an experience. With ESK Productions mobile design, you have the opportunity to bring a larger than life representation of your company straight to them. Whether you are looking to expand brand awareness, physically sell products, or hosting a premier event, we can help you create the perfect venue space on wheels.
WHAT IS MOBILE MARKETING?
In today's world, mobile marketing is often associated with reaching customers through the use of mobile phones and other handheld devices, solely on a technological level. But here at ESK Productions we are helping redefine the phrase. To us, mobile marketing means the ability to physically take your products and services to the consumer, directly. The act of creating custom, mobile environments that brings the full experience of your brand on the road with you. It gives a company the ability to draw large crowds with massive marketing campaigns, yet still engage the audience at a personal level. From simple displays to high-end promotional vehicles, bringing the marketplace straight to the client creates an experience, one that generates repeat business and free marketing through word of mouth. Whether it's at a trade show, fixed venue, or country-wide tour, this strategy maximizes exposure and leaves lasting impressions with consumers old and new.
While there are numerous companies out there who offer solutions to your mobile marketing needs, we set ourselves apart from the rest by bringing you the best quality products and craftsmanship. That is why we choose to work with Airstreams. A company that has stood the test of time for over 80 years, Airstream has become an icon from producing one of the best travel trailers ever built.
These American-made collectibles have a unique way of attracting people from all over the world, no matter the situation. A marketing tool that lure's in the masses on its own, often times before your product is even seen, is an indispensable asset to have. Add ESK Production's expertise with these trailers and special knack for design, and you have yourself an unforgettable marketing asset that gives you an edge over competitors. Make an impact on your client-base with a Taylor-made Airstream as your next investment.
PERFECTLY POLISHED
Our award winning polishing techniques give age-old metal a mirror-like finish again. The shiny aluminum exterior of vintage Airstreams attract eyes from everyone it passes by.
FREE TO ROAM
With the ability to drive your pop-up shop, lounge, or rental space anywhere, the possibilities for venue locations are literally endless. Take your brand or merchandise straight to the consumer.
VERSATILE DESIGN
Our skilled team builds everything in-house based on your needs. Even if that means creating a space that is an empty lounge one day, and a fully stocked mobile store the next.
WHEELED BILLBOARD
Partial or full vinyl wraps on the exterior of an Airstream on vehicle means maximum exposure to, from, and at an event. We can adapt your logo, slogans, or imagery to be installed as large scale signage, which can be taken off or switched out at any time.
ECO-FRIENDLY OPTIONS
Recycling trailers is a step in the right direction, but we can kick the green factor up a notch. Let us know if you are interested in using environmentally conscious or recycled materials throughout your design.
SHOW STOPPER
When you need something to really knock consumer's socks off, it's time to get extreme. Gullwing doors, service windows, or stages that swing up or drop down can be installed right into the side of an Airstream. Ask us for more options.
Let Us Transform Your Brand
From newly-formed enterprises to well-established brands, ESK Productions offers a range of products and services to companies big and small. Regardless of the Airstream's function there are countless ways to incorporate logos, advertisements, and other forms of marketing from the outside in. Already have a corporate identity in place? We can work directly with your design team to integrate your distinguished appearance into every detail. Open to change or just starting out? We can help you explore entirely new concepts or build your presence from scratch.
Corporate Identity — Need help making a name for yourself? Our in-house design team can work one-on-one with you to develop branding material; producing an overall look for your growing business. Every detail is important when trying to make a lasting impression.
Wow Factor — Looking to really knock crowds off their feet? Incorporate a dramatic statement into your design with massive side openings, built-in lighting & sound systems, and innovative details tailored specifically to your company. Push the limits, leave them speechless.
Mobile Billboards — Partial or full vinyl wraps on the exterior of an Airstream on vehicle means maximum exposure to, from, and at an event. We can adapt your logo, slogans, or imagery to be installed as large scale signage, which can be taken off or switched out at any time.
Transforming Rentals — Even our rental trailers have customizable options. Using removable vinyl, electronic displays, and built-in furnishings designed to fit your needs, ESK can convert an empty stock trailer into a member of you team. Rent-to-own and leasing options are available.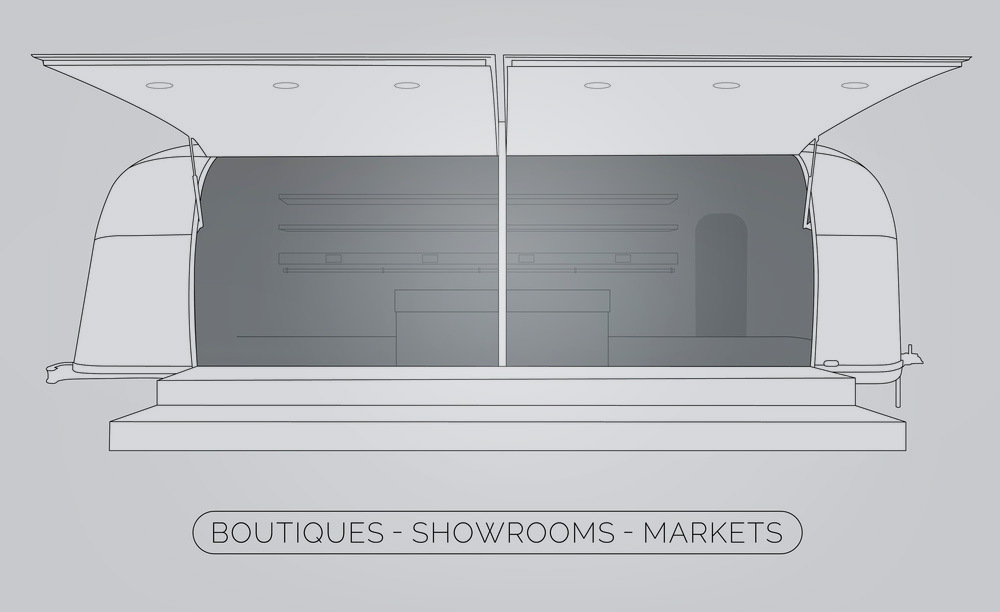 Eateries
RESTAURANTS / BARS / CAFES
Whether a gourmet bistro, British pub, or cupcake shop, with a little imagination and a lot of elbow grease, an Airstream can be transformed into any number of food or beverage related enterprises. With restaurant-grade equipment, custom service openings, and built-in storage you'll have all the amenities of a large scale establishment within reach. Unique spaces for signage, menus, and branding means your logos and products will be easily seen and hard to forget.
Platforms
STAGES / RUNWAYS / PODIUMS
For festivals, tours, and weddings, having the versatility and ease of a high-impact, mobile stage is priceless. Massive, full-side openings give audiences the perfect focal point to watch live bands, performances, or rituals taking place. Add any shape or size stage area, custom lighting / sound systems, and event related branding to make an Airstream trailer party-ready.
Retail
BOUTIQUES / SHOWROOMS / MARKETS
The most versatile option is the store-front style trailer. With grand entrances and open floor plans, a business is given ample space to display goods and hold a mass of shoppers. The walls can be utilized for shelving and rack space, ready to be changed out at any time. Merchandise can be stored inside the unit and transported to and from venue locations. Within minutes of pulling up to a site, you can be greeting customers and conducting sales.
"Empty" Shell
BANQUET HALLS / LOUNGE / SHOPPE
For a slightly more modest option, a closed trailer, open layout version may be just what your company needs. Perfect for lounges, dances, or other social occasions, these "blank" spaces can be adapted as you see fit. By adding either comfy built-in furniture, a DJ stand, or a bar area, you can completely change the use of the space.
Take the Next Step
Now that you've discovered the impact mobile marketing can have on your brand, learn more about the unique way ESK Productions can represent your company using Airstreams as a resource. Explore information on the Airstream itself and what benefits these aluminum trailers bring to the table. Review work we've done in the past, or Contact us to discuss your projects in more detail.
COMPANIES WHO UTILIZE AIRSTREAM MARKETING